When it comes to fun activities, our claim to fame here in the Space Coast is definitely the Kennedy Space Center, as well as our miles of sandy beaches along the Atlantic Ocean. But beyond the shoreline and the NASA visitor center, there's plenty of fun to be had here in Brevard County. Check out a few of the perhaps lesser-known activities that can be enjoyed here in our Space Coast playground.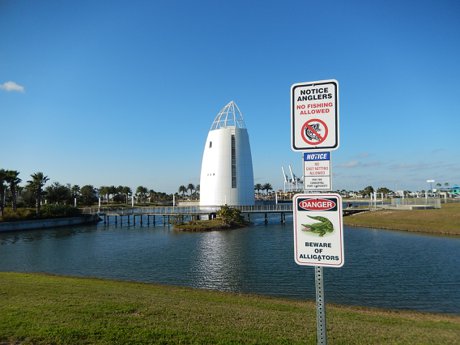 Exploration Tower & Segway Tour - Cape Canaveral
With its uniquely styled modern architecture, the Exploration Tower catches the eye of many Port Canaveral visitors. The Exploration Tower not only offers a bird's eye view of the cruise ships and rockets, it also features some fascinating hands-on discovery areas where guests can learn about local history and the intracoastal ecosystem, and even virtually pilot a vessel into port. Pair this with a nearby Segway tour around the port locks and shipyards, and you're in for a fun day of edu-tainment!
Indian River Queen - Cocoa Village
Take full advantage of our waterfront locale with a river cruise on an old-fashioned paddleboat! With its bright red paddle wheel and stately presence, the Indian River Queen is an iconic sight within Historic Cocoa Village. A ride aboard the Indian River Queen is ideal for dolphin sightings during the day or enjoying live music on the water at night. Many different types of cruises are available via the Indian River Queen website, from family friendly jaunts to sunset cocktail buffets.
King Center for the Performing Arts - Melbourne
The grand auditorium of the King Center hosts numerous plays, ballets, musicians, and comedians from across the world. Past performances showcased a wide variety from the Nutcracker and Sleeping Beauty to Brian Regan and Jerry Seinfeld. Kids shows like Peppa Pig or Disney Junior are also big hits for families with little ones. You can find the Maxwell C. King Center on the Melbourne campus of Eastern Florida State College, and a complete schedule and ticket sales can be found on their website.
Brevard Zoo & Treetop Trek - Viera
Giraffes and monkeys and meerkats—oh my! With four different habitat themes to explore, the Brevard Zoo is a wonderful place for family fun. Feed the giraffes, interact with the kangaroos, or watch the playful otters swim, all in a lush tropical environment with winding boardwalk paths. Kids thoroughly enjoy the indoor animal doctor play area, the outdoor climbing structure, and the refreshing splash zone (so be sure to bring swimsuits!). For additional fun, kayak tours and train rides are available. Plus, there's even an intricate ropes and zip line course for guests who meet the height requirement. Imagine flying right over top of an alligator swamp!
Bioluminescent Tours - Indian & Banana Rivers
Just beneath the surface of the Space Coast waters, you'll find an awe-inspiring world of glowing aquatic creatures. Similar to fireflies, these tiny organisms emit light whenever the dark waters around them are stirred. To view this magnificent natural wonder, many people enjoy taking a nighttime kayak or stand up paddle board tour.
Bioluminescent tours run seasonally in the summer from various river locations along the Space Coast (Titusville, Merritt Island, Cocoa Beach, Melbourne), and the best time for viewing is after dark, a few days before or after each new moon.
These five activities are just some of the many things to do here in the Space Coast. Multiple parks, bike trails, playhouses, concerts, museums, sports clubs, and fishing charters can all make for a full calendar of entertainment, if you so choose. What's your favorite thing to do here in the Space Coast? Share it with us in the comments for a continual collaboration of community fun!