Cocoa Beach Pool Homes for Sale
Treat yourself, and visit a few of the many available homes with pools in Cocoa Beach now. Give yourself the gift of relief from the hot summertime climate. In Cocoa Beach, having a property that allows you to take a swim in the pool is a highly desired luxury. Contact Merritt Island Cocoa Beach Homes as soon as you can, and you'll be splashing around at home before you know it!
Florida's most demanded outdoor home feature is a cool, clear, rejuvenating in-ground swimming pool. usually shaded with a screened enclosure, easily accessed from the patio door, a pool offers a relaxing swim to counter the sunny Florida climate. In Cocoa Beach you can find a refreshing backyard pool in almost every neighborhood. Just picture yourself returning from a long day of yard work , or the drive home from work in the hot late day sun; you can easily dip into the pool and cool off in the privacy and comfort of your own home. Kids can enjoy the activity and exercise that a family pool offers, while being in a safe and friendly environment.
While you house hunt in each region of the coastal barrier island, you'll discover properties ranging from large estate homes on the river's edge to the serene security of family life in the suburbs, or even a cozy little cottage or apartment home in downtown Cocoa Beach. The homes which you will find in the assorted Cocoa Beach communities offer a wide variety of styles, along with vast choices of sizes and layouts. Looking for that "perfect" house in Cocoa Beach, can almost always cause a feelings of intrigue and interest for any fatigued home shopper. Everywhere you go in the Cocoa Beach area, the natural coastal waterways will give you a feeling of contentment to live in so close to the beach and river. A multitude of choices in water sports and various other warm weather activities, are plenty in and around the waterways that surround the island. After all, the Florida climate, and warm winter months on the Space Coast lend to year round participation of sultry days and mild nights. Summer months are certain to be extremely warm and all home buyers should keep this in mind when looking for a home in Florida. Homes with covered porches, and big shade trees can be very attractive on a hot afternoon in mid summer.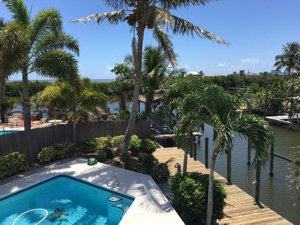 When live in a house in Cocoa Beach that has a backyard in-ground pool, your home is like your own private resort. What could be more enjoyable than lounging on the deck of your very own swimming pool with a Pina Colada or tall glass of iced tea? Experience the invigoration an early morning splash, to liven you up, before your busy day of Floridian activities. Merritt Island Cocoa Beach Homes has pool home listings, and they are ready to show them to you today. All you have to do is give us a call. Hot tubs, Whirlpool Spas, above ground pools, in-ground pools, or landscaped miniature water parks, the homes in Cocoa Beach offer a wide spectrum of pool homes to fit just about anyone's tastes or desires.